Credibility Crisis in the United States over Trump's Health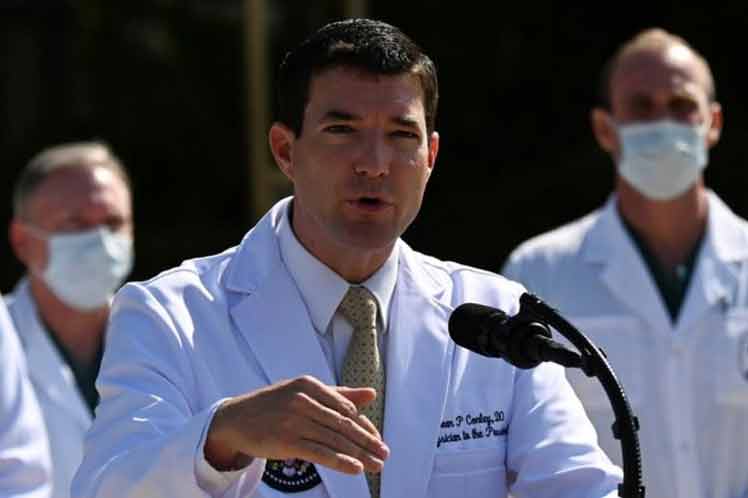 Washington: A credibility crisis floats in the United States today due to contradictory statements about President Donald Trump's health issued by the White House medical team, Prensa Latina publishes.

Last minute reports from the CNN chain indicate that the president in his treatment is supplied with low levels of oxygen but remains in a high feverish state.

Meanwhile a BBC network report notes that a press conference by the president's medical team on Saturday only created confusion rather than clarity.

That day, Dr. Sean Conely said that President Trump was evolving favorably after being diagnosed as positive for the coronavirus that causes Covid-19.

The BBC says that the timeline was further clouded by the revelation that the president received antiviral treatment 48 hours before the announcement that he tested positive.

During his appearance Conley tried to provide a positive image of Trump's condition, although he was reluctant to comment on whether he received oxygen to help him breathe.

Minutes after the press meeting with the medical team concluded, White House Chief of Staff Mark Meadows showed a very different tone and told the assembled press that the president's vital signs during the last 24 hours were very worrisome and the next 48 hours will be vital in terms of their care.

In addition to concerns for the health of Trump and his wife, there is an alarm about the health of eight other people close to him, with whom he was in contact and who in recent days contracted the disease.

Those close to the president who are infected include his campaign manager, Bill Stepien, his campaign advisor, Chris Christie, his former adviser Kellyanne Conway, the president of the Republican National Committee (RNC), Ronna McDaniel, the Republican senators Mike Lee and Thom Tillis, John Jenkins, president of Notre Dame University, and Hope Hicks, Trump adviser.

Until now, the mixture of messages about the situation creates confusion and a credibility crisis and, even, until now it is unknown how and where the president contracted the disease, given his refusal to follow the indications of experts to avoid contagion, including the use of a mask.