Cuba Reports 17 New Cases of COVID-19, No Deaths and 28 Medical Discharges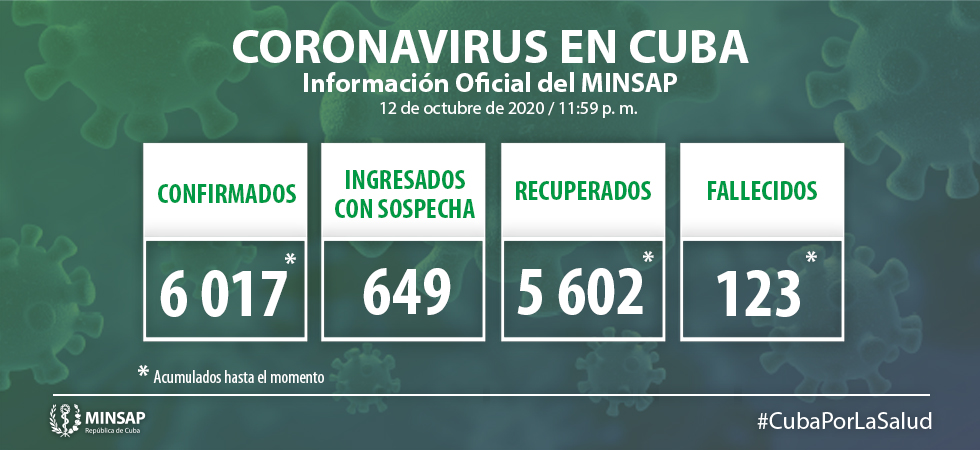 Havana: At midnight this Monday, October 12, Cuba reported 17 new cases of COVID-19, bringing the total accumulated since March to 6 017. There were no deaths on the day and 28 medical discharges were registered, the daily report issued by the Ministry of Public Health publishes.
At the end of Monday, 3,275 patients were admitted to hospitals for clinical epidemiological surveillance (2,336 under surveillance, 649 suspected and 290 confirmed (active cases).
Of the 290 currently active cases, 283 (97.5%) show a stable clinical course.
The 17 diagnosed cases are Cuban. Of the total, 14 are contacts of confirmed cases 14 (88.2%). In three (11.8%) the source of infection was not specified.
Of the total, eight (47.1%) correspond to the female sex and nine (52.9%) to the male. Seven of the positive cases this Monday were asymptomatic (41.2%).
Two patients in critical condition and five in serious condition are reported.
After no deaths were recorded this Monday, Cuba reports 123 deaths since last March, in addition to two evacuees and 5,602 recovered patients (93.1%).
The cases reported belong to Pinar del Río (6), Havana (10), Sancti Spíritus (1) and Yaguajay (1).
Until October 12, 185 countries are reported with cases of COVID-19. The total number of confirmed cases amounts to 37,568,843 (+ 280,905 compared to the previous day) and 1,077,508 deaths (+ 3,833), for a fatality of 2.87%.
The region of the Americas reports 18 056 460 confirmed cases (+ 84 769), 48.06% of those reported in the world, with 593 587 deaths (+ 1 365), for a fatality of 3.29%.