Cuba Reports 38 New Cases of Covid-19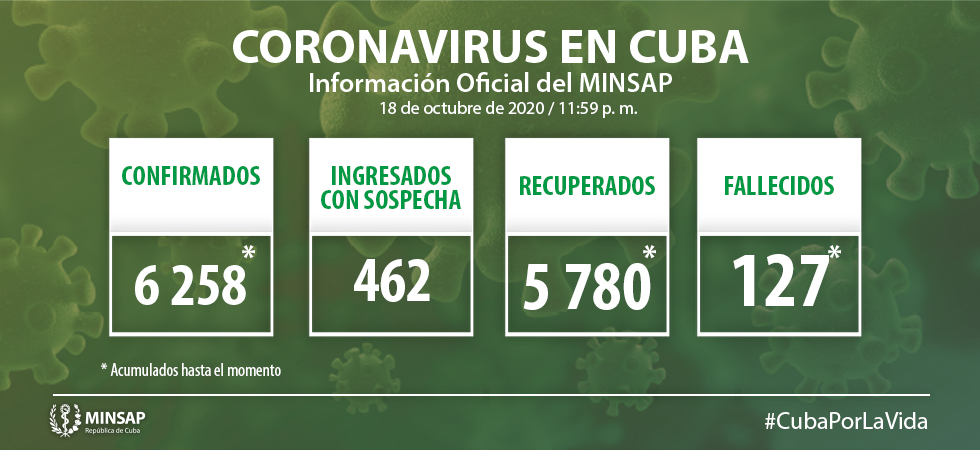 Havana: Cuba confirms 38 new cases of Covid-19, and two deaths at the end of yesterday, October 18, according to reports from the website of the Ministry of Public Health (Minsap), Radio Habana Cuba publishes.
The figures are the result of 6 thousand 508 samples studied in the different Molecular Biology laboratories of the national territory.
The country accumulates 749,924 samples carried out and 6,258 patients diagnosed with the disease, since the pandemic began in Cuba on March 11.
Of the 38 positives, one is imported and the rest autochthonous. Thirty-two were contacts of confirmed cases; five without a specified source of infection and one was infected abroad. Eighteen are female and 20 are male.
349 patients remain hospitalized, 341 of them with stable clinical evolution. Five are in serious condition and three critical. There were 12 medical discharges, with which the recovered patients add up to 5,780 patients (92.4%).
By province, the reported cases belong to Pinar del Río (10 cases. 1 of them imported), Havana (4 cases), Sancti Spíritus (17 cases), Ciego de Ávila (7 cases).
Until October 18, 185 countries with COVID-19 cases are reported, amounting to 39 million 774 thousand 902 confirmed cases (+ 374 thousand 818) and one million 110 thousand 902 deaths (+ 5 thousand 548) for a fatality of 2, 79% (-0.01).
The region of the Americas reports 18 million 773 thousand 464 confirmed cases (+ 120 thousand 183), 47.19% of the total cases reported in the world, with 608 thousand 716 deaths (+ 2 thousand 367) for a fatality of 3 , 24% (-0.01).