New Normality in Education and Restart of the School Year in Havana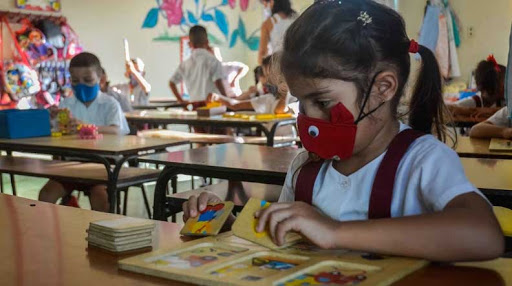 Mayabeque, Cuba: The Minister of Education and the Provincial Director of Havana appeared this Thursday at the Round Table program to report on the situation of the school year in the country, the restart in Havana and other topics of interest.

There are many provinces that began the teaching stage on September 1 and complied with the planned design, others are developing the final processes, the Minister of Education, Ana Elsa Velázquez Cobiella explained.

In Mayabeque, the health problems in Nueva Paz and San José de las Lajas caused a new stop in the school period, but finally the public health measures concluded and classes began.

The provincial director of education in Havana, Yoania Falcón Suárez, said that they are preparing for the restart of the school year, the teachers are prepared, even some 3,000 from other provinces.

Priority was given to all those schools with difficulties in the supply of water, which led to change the hydraulic system in many of them. Where repair was not possible, water pipes will be used for the time being.

In the provinces that are ready, the 2020-2021 academic year will begin on November 2, except Havana and Ciego de Ávila, while Pinar del Río and Santi Spíritus are yet to be defined.

Starting the new school stage in November implies an opening two months later than usual, which does not lead to losses in the educational teaching process, the Minister of Education, Ana Elsa Velázquez Cobiella said.