Cuba Remembers Victories of Internationalist Feat in Angola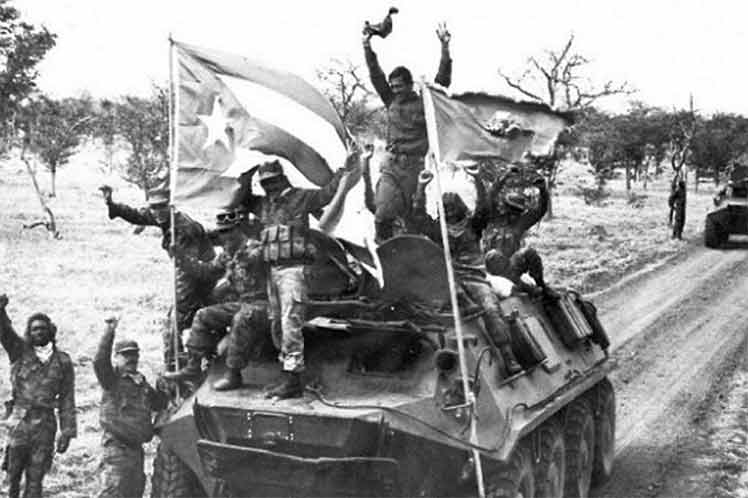 Havana: Cuba today remembers the victories in Quifangondo and Cabinda, milestones in the internationalist military aid provided by the Island to Angola in the face of threats to its sovereignty, known as Operation Carlota, Prensa Latina publishes.

On November 10, 1975, the Cuban-Angolan forces defeated in Quifangondo, north of Luanda, and in Cabinda, an enclave of the African country separated by the Congo River and bordering Zaire (today the Congo's Democratic Republic).

The first of the battles began on October 23 of that year, and marked the combat between the National Front for the Liberation of Angola and its allies, on the one hand, and the troops of the largest of the Antilles and the Popular Movement for the Liberation of Angola (MPLA), on the other.

Meanwhile, Cabinda involved the warlike confrontation of the Cuban internationalist forces and the Popular Armed Forces for the Liberation of Angola, against the Zairean army.

Authorized voices agree that both victories allowed the independence of the People's Republic of Angola to be proclaimed on November 11, 1975, and that the leader of the MPLA, António Agostinho Neto, became the first president of the new African state.

On November 5 of that year, at the request of the MPLA, the Cuban government decided to directly support the African nation with the initial dispatch of a battalion of special troops from the Ministry of the Interior, thus initiating Operation Carlota.

The island's contribution made it possible to preserve the independence of Angola, and influenced the liberation of Namibia (in March 1990) and the end of the apartheid system of racial segregation in South Africa.

Between 1975 and 1991, around 300,000 Cubans participated in the African epic and more than 2,000 lost their lives.

In the words of the historical leader of the Cuban Revolution, Fidel Castro, leader of that mission, it was 'an extraordinary feat of our people, especially of the youth', and 'seldom has an equal page of altruism and international solidarity been written' .

The operation inherited the name of the slave Carlota, who on November 5, 1843, revolted with a machete in hand at the Triunvirato sugar mill, in the western province of Matanzas, at the time of Spanish colonialism in Cuba.