Government Control Visit to the Municipality of Güines
Mayabeque, Cuba: The municipality of Güines is working on the development of a strategy that includes food sovereignty programs, urban, suburban and family agriculture, the Housing Policy, and production of materials to build, rehabilitate and conserve the housing fund.
This was verified by a work team from the provincial government in an exchange with municipal authorities.
The governor of Mayabeque, Tamara Valido Benítez, called for superior results in all areas, raising economic and social indicators, which will result in quality of life for the people. During the day they toured areas where houses for agricultural workers of the Agricultural Production Cooperative (CPA in Spanish) Amistad Cubano Búlgara are built.
There, the general director of infrastructure and investments in Mayabeque, Felix Arvelo, learned of the construction work with the greatest impact, "the school that is converted into 82 apartments for the support of that cooperative, that is, in these houses there must be at least one member who is linked to the CPA, because the essence is to strengthen the agri-food program in Güines".
The director of science, technology and environment in the province, Terina García Davis, exchanged with members of the Municipal University Center and those responsible for programs and entities in the territory, "linked to the territory's development strategy, the link with the program of food production with more science".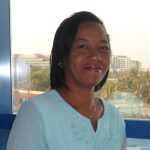 Periodista en Radio Mayabeque