Harris Will Present Her Official Resignation to the United States Senate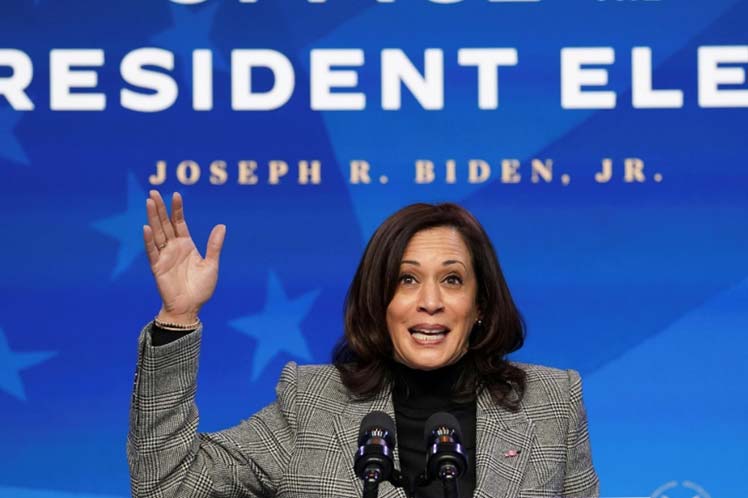 Washington: The US vice president-elect, Kamala Harris, will officially resign her seat in the Senate today, two days before the inauguration ceremony of the new government scheduled for Wednesday, Prensa Latina publishes.
Harris has already started the process by sending a formal notification to the governor of California, Democrat Gavin Newsom, and she will make an announcement this Monday to leave her seat in that legislative body, before assuming her position as vice president, according to the her assistants.
Newsom confirmed that he will appoint Alex Padilla, California's secretary of state, to fill Harris's position for the remainder of her term, which was scheduled to end in 2022.
Although the election was praised by Latino unions and organizations, it also upset some who wanted Newsom to replace Harris with an African-American woman, The Hill newspaper highlights.
The president-elect's running mate, Joe Biden, is the only black member of the Upper House currently in service and the second black senator of that race in the entire existence of that legislative body.
Harris's rise to the vice presidency makes her the most elected woman in the history of the northern nation, because in addition to being the first female to hold that position, she is also the first African-American, Indian, and Caribbean-American to hold the second-highest office position of the country.
She was elected to the Senate in 2016 and quickly gained national attention for her sharp questioning style of executive branch officials, The Hill noted.
Harris partnered with Republicans on issues such as electoral security and criminal justice reform during her tenure in the Senate.
According to news outlets, she also had high-profile fights with her Republican colleagues, including a heated debate with Senator John Cornyn (Texas) in June over a police reform bill and independent anti-lynching legislation.
Harris will be sworn in on Wednesday before Supreme Court Justice Sonia Sotomayor as the country's next vice president, and in that capacity, she will also serve as president of the Senate.
That title allows Harris to preside over the Upper House and break 50-50 ties, effectively handing the Democrats a majority for the first time since 2014, when she took office from it on January 20.
"This is not a goodbye to Vice President-elect Harris", said an aide to the hitherto senator. "By resigning the Senate, she is preparing to take an oath that will allow her to preside over it".