Young Communist Leagues Highlights Dedication and Humanism of Young People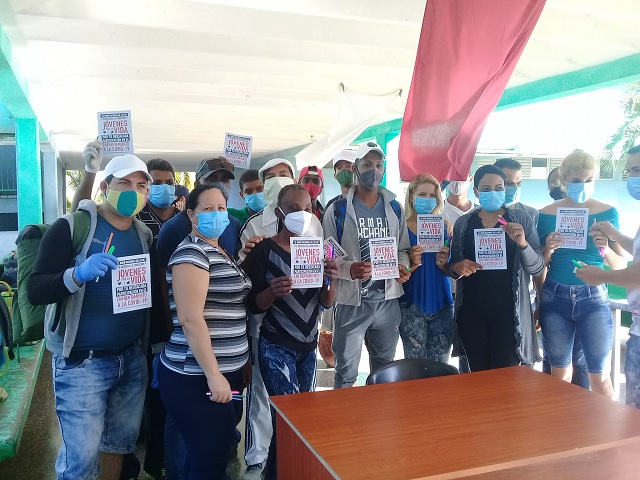 Mayabeque, Cuba: Representatives from several sectors received the Youth for Life Status for their performance during the confrontation with Covid 19.
This multidisciplinary team worked in isolation centers and authorized medical facilities, such as emergency hospitals in Mayabeque.
The recognition is conferred by the Young Communists League (UJC), an organization that distinguishes the new generations in the country, who are making an exceptional contribution to saving lives and contributing to economic-social progress in times of pandemic.
JOURNALIST: Dedication and sleeplessness, consecration, responsibility and humanism characterize the work of many of those awarded, who took on the challenge of helping patients in the so-called red zone.
JOURNALIST: "It was a shocking experience to be honest, because we were able to carry out our work in our career, the first day was terrible, because there were emotions, fear, but we overcame them, we had a medical team that supported us a lot.
Journalist: In the face of the health emergency that the country is experiencing, have important human values been revealed?
YOUTH 2: "Humanity, solidarity".
JOURNALIST: If you have to go back to this center, would you do it?
YOUTH 2: "Yes, I would do it with great pride."
YOUNG 3: "It has been an unforgettable experience, despite the risks. Keeping the protocol as it is and I would be willing, if we have to return, to return here".
YOUTH 4: "We were touched by the opinion of the patients that is our professional reason, of young people who from their own inspiration recited poems to us. An older man marked me a lot, who called us from afar and told me: come a little closer, I went forward and answered him, I can't go any further, but he told me, I would like to go down to hug you and shake your hands".
YOUTH 5: "It means a lot, really, to be able to contribute one more grain of sand to this country, it's worth it."