Cuba Reports One Thousand Four New Cases of Covid-19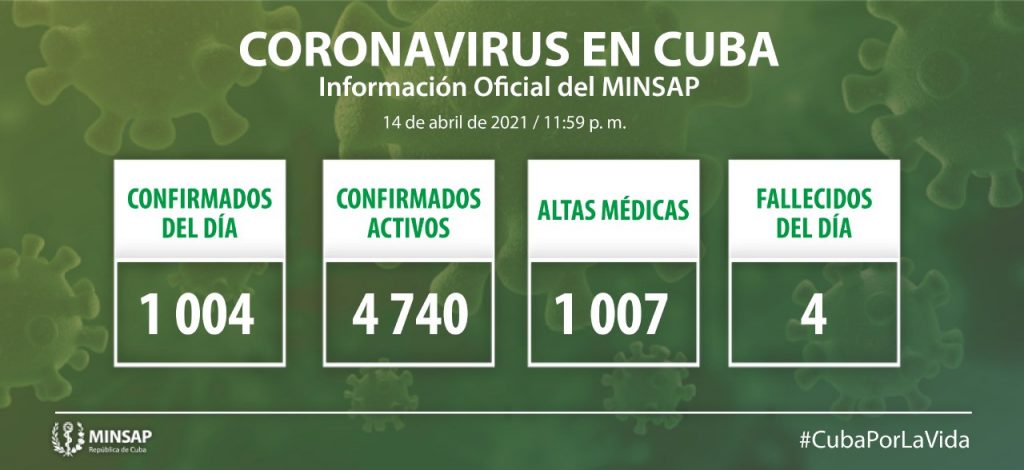 Havana: Cuba reported today one thousand four people with Covid-19, four deaths and one thousand seven medical discharges granted in the last day, Prensa Latina publishes.
The national director of Epidemiology, Dr. Francisco Durán, reported in the daily press conference that with the medical discharges given, the number of recovered rose to 85,121, and of the 4,740 active cases, 4,671 have a stable clinical course.
Dr. Durán regretted that 32 people remain in intensive care in critical condition and another 37 are reported in serious condition.
In the last hours four people died, and now the country accumulates the number of 491 deaths.
He regretted the statistics of pediatric cases, because in the last hours 135 children were detected with Covid-19, and 727 infants are sick in hospitals.
In therapy there are two one-year-old patients in serious condition, Durán said, who highlighted that to date 93.5 percent of children have recovered.
Residence by province of the confirmed cases:
Pinar del Río: 33, Artemisa: 15, Havana: 510, Mayabeque: 17, Matanzas: 92, Cienfuegos: 8, Villa Clara: 14, Sancti Spíritus: 91, Ciego de Ávila: 7, Camagüey: 4, Las Tunas: 13, Granma: 73, Holguín: 20, Santiago de Cuba: 93, Guantánamo: 13
Until April 14, 190 countries and 29 territories with cases of COVID-19 are reported, the confirmed cases amount to 138 million 652 thousand 642 (+ 831 thousand 978) with 24 million 247 thousand 627 active cases and 2 million 979 thousand 495 deaths (+ 13 thousand 769) for a fatality of 2.15 (=).
In the region of the Americas, 59 million 760 thousand 365 confirmed cases (+ 254 thousand 247) are reported, 43.10% of the total cases reported in the world, with 9 million 196 thousand 574 active cases and 1 million 442 thousand 811 deaths (+ 6,413) for a fatality of 2.41 (=).