Colombian Trade Unionists Announced Second Day of National Strike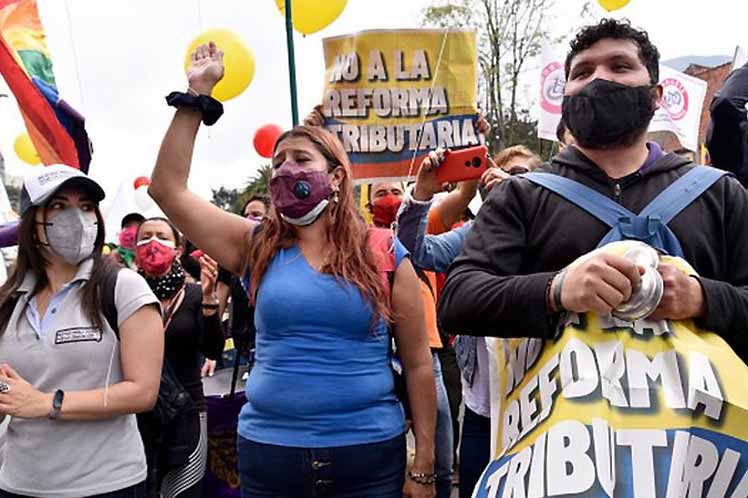 Bogotá: A trade union organization announced that today the national strike started on Wednesday against the announcement of a new Law to increase some taxes and impose the collection of urban tolls will continue today, Prensa Latina publishes.
The strike on Thursday will insist on the opposition to the tax reform, it will continue on May 19 and as long as the government persists in the current proposal, added the leader of the Unitary Central of Workers, Francisco Maltese.
There will be massive, vigorous and peaceful marches, while requests will include points such as basic income and support for small and medium-sized enterprises, included in the emergency sheet presented by the Strike Committee.
Also, we foresee a day on May 1st, Day of Labor, for the cities where it is possible by the absence of confinement before the COVID-19, and in which lack the conditions, the protest will be done on the social networks.
Spokespersons of the aforementioned Committee also called the Government to take action against the increase in crimes against social leaders, as well as on the increase of feminicides and victims of the COVID-19 pandemic.
People die of hunger by the economic crisis or because of the disease, because 'no vaccines arrive on time, "they added organizers.
The unemployment of this Wednesday left a dead man, 42 wounded and equal numbers of detainees, by violent acts of citizens unrelated to protests, organized throughout the country.
Peaceful actions were mixed with aggressions of unscrupulous individuals, which sabotaged public buildings and bus stations, burned vehicles and caused the death of a person in Cali.
That Western city recorded attacks by which about 30 citizens, violent acts of military and serious public order problems, according to the Minister of the Interior, Daniel Palacios were argued.
The unemployment convened by the working plants rejected the tax measures of the so-called Draft Sustainable Solidarity Act announced by the Executive to finance the crisis generated by the COVID-19.