Critics for Visit of President of Colombia to Cali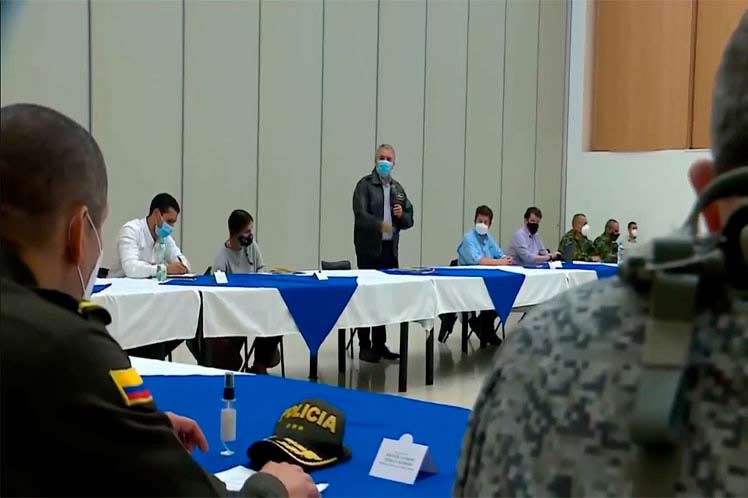 Bogotá: Congressman Roy Barreras today criticized a brief visit by the President of Colombia, Iván Duque, to Cali shortly after ordering the militarization of that city with the greatest deployment of capabilities of the Public Force, Prensa Latina publishes.
"President: Neither the popular demand nor the violent public disorder finds real nor lasting solutions with a fearful clandestine visit of three hours at dawn," he said through his Twitter account.
Barreras, who is president of the Senate Peace Commission, urged the president to go to Cali to talk, to listen to the people, to propose solutions for young people.
During the "lightning" visit, Duque held a Security Council with local authorities and members of the military leadership and the National Police.
Yesterday Sunday, an indigenous minga in this city and in the context of the national strike that began on April 28, ended violently.
According to numerous complaints, hit men in complicity with the police fired guns at the representatives of the original peoples of Colombia, resulting in around a dozen young wounded, belonging to the Indigenous Guard of the Indigenous Regional Council of Cauca.
Among them was Daniela Soto, leader of the Cauca Youth Agenda, coordinator of the CRIC Youth Program and member of the ProDefensoras Initiative.
Juliette de Rivero, representative in Colombia of the UN High Commissioner for Human Rights, rejected the attacks suffered by the indigenous Minga in Cali.
In addition to expressing her great concern, she urged to investigate and punish the attack that leaves at least eight indigenous people injured, including several women leaders and defenders.
'We call all people to calm down, especially in Cali, and to respect life and fundamental rights. The guarantee of #DDHH is obtained through dialogue and non-violence. We urge: no more violence, no more violence, 'she wrote on her Twitter account of hers.
Today the mobilizations continue in Colombia against repression, militarization and the economic and social policies of the Duque government that, protesters warn, exacerbate the crisis in the country.
The start of a dialogue between the National Unemployment Committee and Duque is also expected, after this group agreed to talk.
Meanwhile, Cali, the capital of Valle del Cauda, ​​remains under a state of siege by express order of President Duque, who among other measures ordered the removal of indigenous people from the city.