Cuban President Criticizes Unites States' Lack of Commitment to the World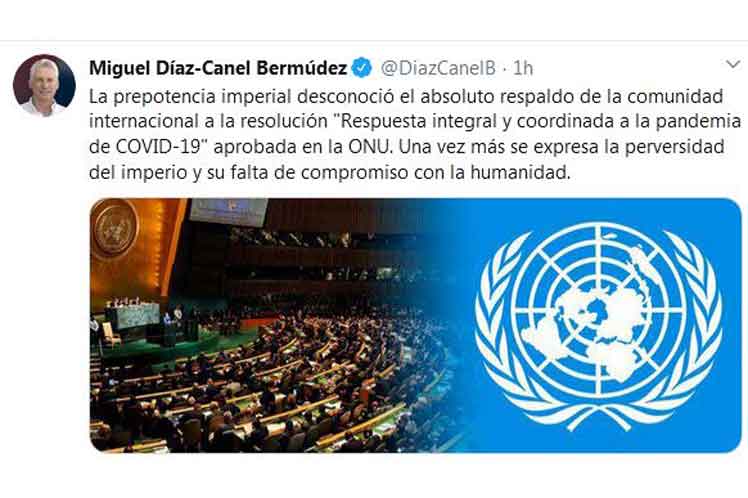 Havana: The president of Cuba, Miguel Díaz-Canel, criticized today the lack of commitment of the United States (USA) with the world, expressed in his opposition to the resolution of the United Nations Organization (UN) to respond to the Covid-19, Prensa Latina publishes.
In his Twitter account, the president said that "the imperial arrogance ignored the absolute support of the international community" for this provision, which promotes a comprehensive and coordinated response to the pandemic.
"Once again the perversity of the empire and its lack of commitment to humanity are expressed," the head of state wrote on the social network.
Last Friday, the United Nations General Assembly approved a resolution, which addresses the impact of the current health emergency and recovery efforts, from a comprehensive perspective.
The regulation, which is not legally binding, could not be adopted by consensus due to the US request to put it to a vote, which closed with 168 votes in favor, two abstentions (Ukraine and Hungary) and only two countries against. (the northern nation itself and Israel).
The recognition of Covid-19 as one of the greatest global challenges in the history of the UN, and the request for greater international cooperation and solidarity to 'contain, mitigate and overcome the pandemic and its consequences', are part of the text.
At the proposal of Cuba, the document also included the rejection of the promulgation and application of unilateral coercive measures, and urges their elimination; modifications that were very well received by the Assembly.
The resolution also calls on UN member states to allow all countries to have timely, unhindered access to quality, effective and affordable diagnostics, therapies, drugs and vaccines, as well as equipment for the response to Covid-19 .