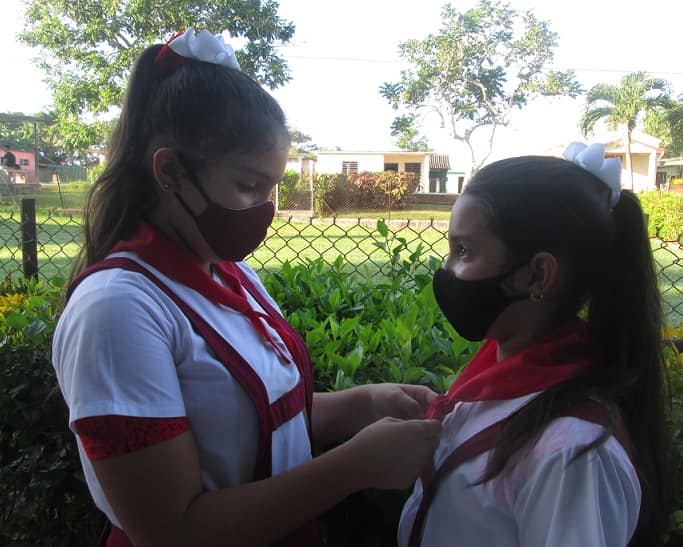 The coronavirus has disrupted everything, until the day of the scarf, which could not be the great party of always, but that was full of joys and commitments, this September 29.
The uncertainties that the disease has generated disappeared, as by magic, on this day of the scarf and this is how I perceived it at the José Antonio Saco primary school where my son studies and in the hundreds of images that color social networks.
And the thing is that nothing can oppose to this moment of indescribable emotions for the children and the family of the Island.
Each one of us has kept, at least, the memories of those moments that we usually evoke every time the schools are filled with children eager to receive their blue or red scarf, when it corresponds and according to the level of schooling.
I have memories of my initiation as a pioneer. It was a beautiful and bright morning, and at my school the almond trees swayed their leaves that always began to wither on those October days.
Some leaf was blown by the wind and one came to my feet, I think now, as the sign of the beginning and end of a journey.
It was my teacher Luisa, who tied the scarf around my neck and I still feel that different and rich smell, which made me really happy.
I remember that afterwards my mother ironed the fine and delicate fabric of my first blue scarf with the utmost care.
That pure respect for the attribute has paled in recent times. So we see how the fascination experienced when receiving it is passed, little by little, to apathy.
Some pioneers detract the value of the attribute and are sometimes seen without their scarf when returning from school because they carry it in their backpack, in their pocket, in their hand, or they simply lost it.
I think that they need to learn to love it. Far from seeing it as the property of an organization, they should feel it, as a personal, intimate and valuable garment, which speaks of who you are, where you are from, what you do.
But to give it that significance they need lessons as constant and profound as the sunrises.
And it is the responsibility of everyone, especially the school and the family, whose enormous challenge consists of defying fashions and modes, strengthening respect, deepening the knowledge of everything that surrounds us, of history and of us because, definitely, the scarf is also part of our life.
So, bringing out and nurturing the passion for what is ours is fundamental in the task of teaching to love and care for the scarf, but above all, to respect it.
It represents the Cuban identity, the past that made us, and the present we defend. The scarf is like that sail that pushes us, against all odds, towards a better future.