Díaz-Canel Will Hand over Pro-tempore Presidency of ECLAC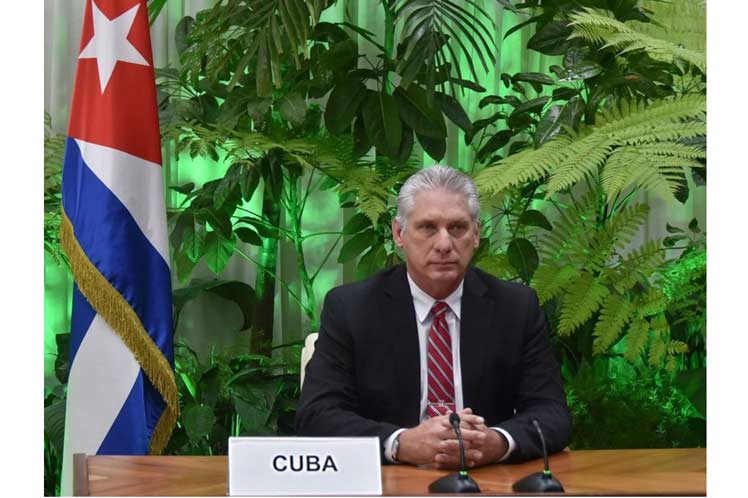 Havana: The president of Cuba, Miguel Díaz-Canel, will hand over to Costa Rica today the pro tempore presidency of the Economic Commission for Latin America and the Caribbean (ECLAC), Prensa Latina publishes.

For the first time, due to the epidemiological situation, the 38th session of that organization will be held virtually.
The island held this position since the previous ECLAC forum held in Havana in May 2018.

The participation of the President of Costa Rica, Carlos Alvarado, the Secretary General of the United Nations, Antonio Gutérres and the Executive Secretary of ECLAC, Alicia Bárcena, is expected at today's meeting.

According to the country's Ministry of Foreign Trade and Foreign Investment (MINCEX), during his presidency Cuba focused on three fundamental lines: advancing in the implementation of the 2030 Agenda, prioritizing the Caribbean and strengthening South-South cooperation.

Recently, Alicia Bárcena highlighted Cuba's contribution to the region and to that organization.

"It has been an exceptional and excellent presidency and they have had to accompany us in the framework of this pandemic, showing the immediate reaction capacity that is required at times like these", she said in an interview to the Cubadebate website.

The executive secretary highlighted the contribution of solidarity and the Island's emphasis on placing multilateralism as a key tool for sustainable development with equality.

According to Bárcena, the Caribbean State stands out for its persistence and capacity in the search for its own model of development as a nation.

"It has obtained great successes in universal health, in universal education and without going any further, there are many countries in our region that in this pandemic have received precisely the solidarity and cooperation of Cuban medical brigades", she commented.

She highlighted the Island's leadership to articulate solidarity collaboration, promote South-South and Triangular Cooperation, as well as the close relationship between these and the implementation of the 17 sustainable development goals.

The designation of Cuba as head of ECLAC constituted recognition for the nation, official sources assured.
The head of MINCEX, Rodrigo Malmierca, recognized the pro tempore presidency of the Caribbean country as an opportunity to contribute to the sustainable development in the region.

According to the minister, the direction of the organization represented a challenge for Cuba, subject to the strict economic, commercial and financial blockade imposed by the United States government, which limits its ability to cooperate and contribute to those objectives.

During the two years of the Cuban mandate, the island government organized and participated in different events such as the High-Level Political Forum (2018) and the Regional Conference on Population and Development (2018).

It also prepared other relevant meetings such as the Board of Directors of the Committee on South-South Cooperation, the United Nations High-Level Forum for development, conferences on South-South collaboration and the 33rd Committee of the Whole of ECLAC, among other calls.