Cuba Remembers Marines' Outrage against Statue of José Martí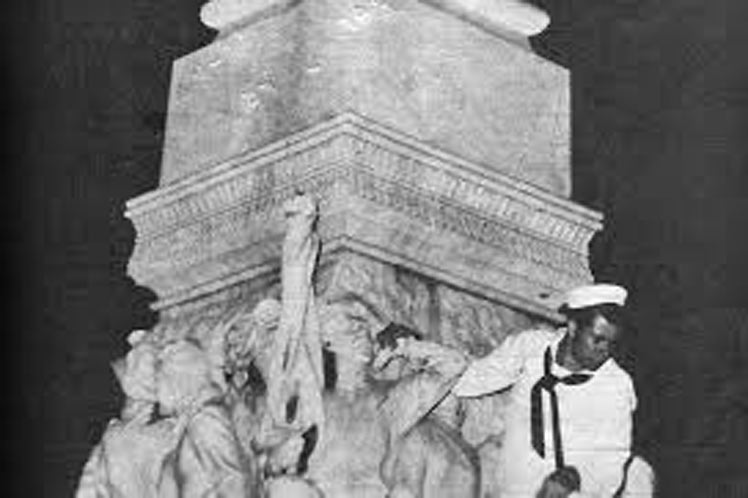 Havana: Cuba today remembers the outrage perpetrated by US Marines against the statue of the National Hero, José Martí, in Central Park, when new attempts to desecrate national symbols are encouraged from the United States, Prensa Latina publishes.
On March 11, 1949, three members of the North American flotilla headed by the aircraft carrier Palau, in the midst of their intoxication, tried to scale the statue of the Apostle of Cuban independence, and one of them even sat on his head and used it as a urinal.
The event provoked an immediate reaction from the people of Havana, who tried to take the law into his own hands and beat up the executors. Only the intervention of the police saved them from that fate.
The next day, the capital square where the events took place was filled with the public, in an act of reparation to the hero where students, workers and members of left-wing organizations intervened.
The profaners, however, were not punished, but under the protection of the government of President Carlos Prío (1948-1952) they managed to march to their boat, where they remained until their return to the United States.
Seven decades later, in the early morning of January 1, 2020, three Cuban citizens spilled pig's blood on busts of José Martí and posters dedicated to the heroes of the Cuban Revolution.
The action was promoted and financed from the United States, and to carry it out the mercenaries did not resort to alcohol, like the US Marines, but to drugs, as they declared to the authorities after their arrest and in the trial held last December.
The evidence, however, was already public, since the money received by Panter Rodríguez, Yoel Prieto and Jorge Ernesto Pérez also supported the publication of a video about the outrage on social networks.
They were charged with the crimes of defamation of institutions and organizations and of heroes and martyrs, as well as damage to cultural heritage assets, with sentences ranging from 15 years to one of deprivation of liberty.
However, it was the public rejection, spontaneously expressed by citizens in acts carried out in communities and workplaces, the first sanction for new defilers.
Cuba has denounced on numerous occasions the attempts at subversion financed from the United States, which include the outrage of national symbols as one of its actions.
The same disrespect and origin in 1949 and in 2020 has so far found the same response from Cubans.