Cuba Confirmed 727 New Cases with Covid-19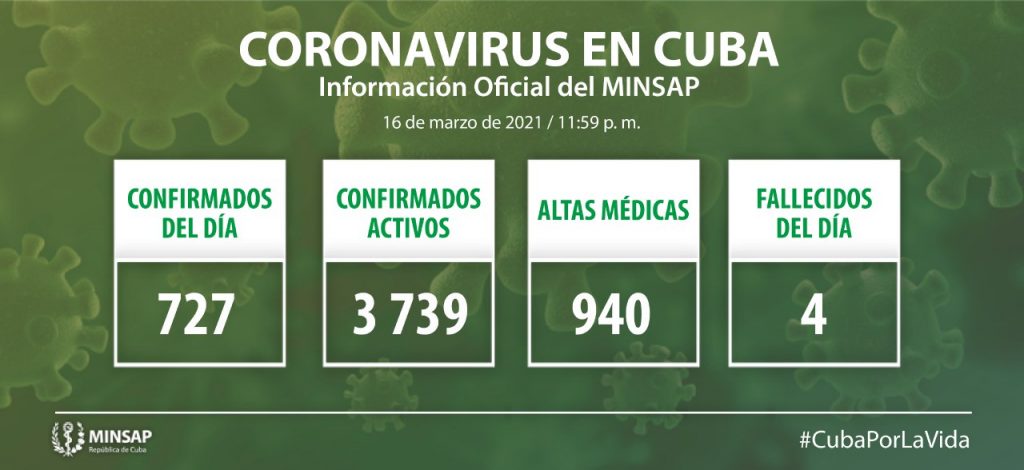 Havana: Cuba confirmed midnight this Tuesday, 727 new cases with Covid-19 for a positivity of 3.1 percent, after the study of 20 132 samples in the 23 molecular biology laboratories of the country, Radio Habana Cuba reports.
In the usual televised briefing, the national director of Epidemiology of the Ministry of Public Health (Minsap), Francisco Durán, reported that the day before there were 21,947 admitted, 3,716 suspects, 14,492 surveillance and 3,739 confirmed active.
Durán lamented the death of four people due to Covid-19 and explained that it was an 82-year-old patient from 10 de Octubre, an 82-year-old patient from Centro Habana, a 75-year-old patient from Centro Habana too, and a 56-year-old patient from Plaza de la Revolución, all in Havana. All of them had associated comorbidities.
The country accumulates 2,710,768 samples studied and 63,725 (2.35%) confirmed patients since the beginning of the pandemic last March.
Of the cases 723 are autochthonous and four 4 arrived in Cuba recently; 715 are contacts of confirmed cases and in eight the source of infection is studied.
Regarding the distribution by provinces: Havana 380, Santiago de Cuba 76, Granma 70, Pinar del Río 62, Camaguey 24, Artemisa 17 and Guantánamo 16.
The day before, 52.1% (379) of those diagnosed were asymptomatic. Attending to the age groups: under 20 years: 129, of them 120 in pediatric ages and seven infants and four are 6 months or less; between 20 and 39 years: 239; between 40 and 59 years: 252 and with 60 years and more: 107.
Of the 63,725 patients diagnosed with the disease, 3,739 remain hospitalized, of them 3,675 with stable clinical evolution.
380 deaths accumulate (four in the day), two evacuated, 54 returned to their countries, there were 940 discharges on the day, 59 550 recovered patients accumulate. 64 confirmed patients are cared for in intensive care, 33 of them critical and 31 seriously ill.