Today in Mayabeque 156 positive samples for Covid-19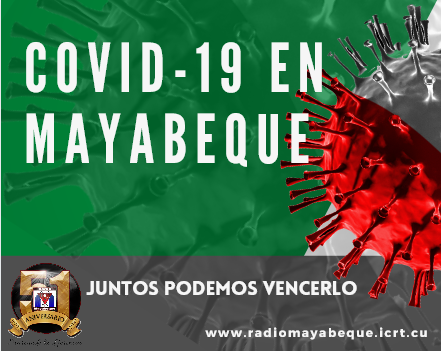 Mayabeque, Cuba: Mayabeque reports 156 positive samples for Covid-19, of which 148 are contacts of confirmed cases and eight do not require a source of infection, according to the official website of the Ministry of Public Health (MINSAP) of Cuba.
The epidemiological situation in the province continues to be complex. The municipality of San José de las Lajas has 55 diagnosed with the virus and Güines 41 ill in the day yesterday.
Santa Cruz del Norte registered a total of 15 patients, while San Nicolás and Jaruco quantify seven by locality. For its part, Nueva Paz reports six positive cases; Madruga, Bejucal and Quivicán add up to five for each territory and Batabanó: 4.
According to the usual press conference in the intensive care rooms, three people remain in a stable critical condition, including an 83-year-old woman from San José de las Lajas, another of 80, resident of Güines and a 76-year-old citizen from Madruga.
Among those reported as serious is a 55-year-old woman, from Madruga, and another 32-year-old, from San Nicolás, with negative evolutionary PCR.
Today we mourn the death of three people from Mayabeque:
A Cuban citizen, 75 years old from Güines. Personal Pathological antecedent of Arterial Hypertension. Diabetes Mellitus under study. Hospital stay: 18 days. He made cardiorespiratory arrest, resuscitation maneuvers were performed that were not effective.
A 71-year-old Cuban citizen from San José de las Lajas. Personal Pathological Background: Arterial Hypertension, Type 2 Diabetes Mellitus, Gouty Arthritis and Ischemic Cerebrovascular Disease. Hospital stay: 13 days. He presented extreme bradycardia and cardiac arrest, cardiovascular resuscitation maneuvers were performed that were not effective.
A Cuban citizen, 65 years old. Municipality Santa Cruz del Norte. Personal Pathological Antecedent of Arterial hypertension. Hospital stay: 12 days. He presented a picture of extreme bradycardia without response to medication followed by cardiac arrest in asystole, which did not respond to resuscitation maneuvers.