President of Cuba Thanks Example of Henry Reeve Contingent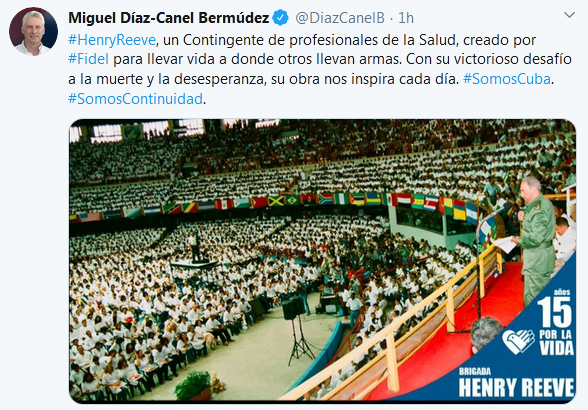 Havana: The President of Cuba, Miguel Díaz-Canel, thanked the example and generosity of the Henry Reeve Medical Contingent on the 15th anniversary of its foundation, an initiative of the historic leader of the Revolution, Fidel Castro, Prensa Latina publishes.
In a message posted on his Twitter account, the president sent congratulations to the more than 9,000 health professionals who make up the brigade for their work "facing and overcoming pain and death in the world", he wrote.
"#HenryReeve, the Contingent of Healthcare professionals, created by #Fidel to bring life where others carry weapons; with its victorious challenge to death and despair, its work inspires us every day", the head of state published in another message.
One day the world will reward their generous work for the health and lives of millions of human beings invisible to the market, he added.
The International Contingent of Doctors Specialized in Disaster Situations and Serious Epidemics was created on September 19, 2005 in response to the damage caused by Hurricane Katrina to New Orleans, in the United States.
Its mission is to provide humanitarian-medical-health aid to the populations of countries that are victims of natural disasters and epidemics, and to help their recovery.
The name of the Contingent pays homage to the young American, who joined as a line soldier to a detachment of Cuban patriots that landed on the eastern coasts of Cuba in 1869 to join the war of independence.
In the midst of the fight against Covid-19, 52 Henry Reeve brigades supported 39 nations in the confrontation, of which 43 remain active in 33 countries.
To date, they have treated 528 thousand 737 patients with the SARS-CoV-2 coronavirus, which causes the disease, and accumulate more than 12 thousand 200 lives saved.