When a Birth Presages a High Expression of Humanity and Solidarity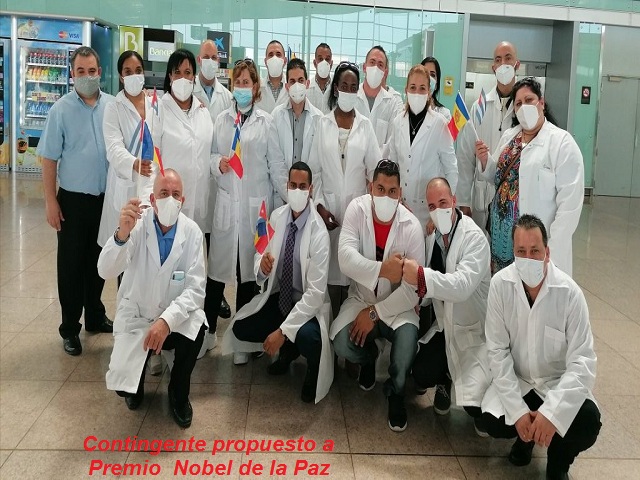 Mayabeque, Cuba: This September 19, 2020 marks the 15th anniversary of the creation of the Henry Reeve Contingent, proposed for the Nobel Peace Prize.
What was the background of the Contingent?
1960 A strong earthquake hits Chile with great loss of human and material life. The then president of that country, Salvador Allende, accepts Cuban medical aid. Thus was born the first emerging brigade.
1960-1970 Permanent collaboration was born in Algeria, an experience that spread to 150 countries and in which more than 450 thousand health professionals have participated.
1970 The renowned earthquake in Peru occurs; a medical brigade arrives from Cuba to that South American nation. Fidel Castro heeds the call to donate blood for the Peruvian people.
1972 Managua, the capital of Nicaragua, suffered a high intensity earthquake. Even in the presidency, Anastasio Somoza, a Cuban brigade arrived in that Central American nation. The contribution of the Cuban doctors had to be recognized by the president himself.
During the decade of the 70s and 80s of the last century, Cuban medical aid reached Honduras, Guyana, Africa, Asia and even small islands located in the Pacific Ocean.
1998 Hurricane Mitch, one of the most powerful and deadly tropical cyclones seen in the modern era, with a maximum wind speed of 3209 kilometers per hour caused nearly 20 thousand deaths and millions of dollars in losses in the region of Central America. Many call it the hurricane that destroyed that geographic area. Cuban brigades arrived in Honduras and Guatemala.
A story that emerged with the purpose of saving lives in times of disasters, epidemics, pandemics and other events that require Cuban medical and paramedical assistance and that reaches our days as a high expression of humanity and international solidarity, an altruistic and exemplary work.