Eta Moves again over the Caribbean Sea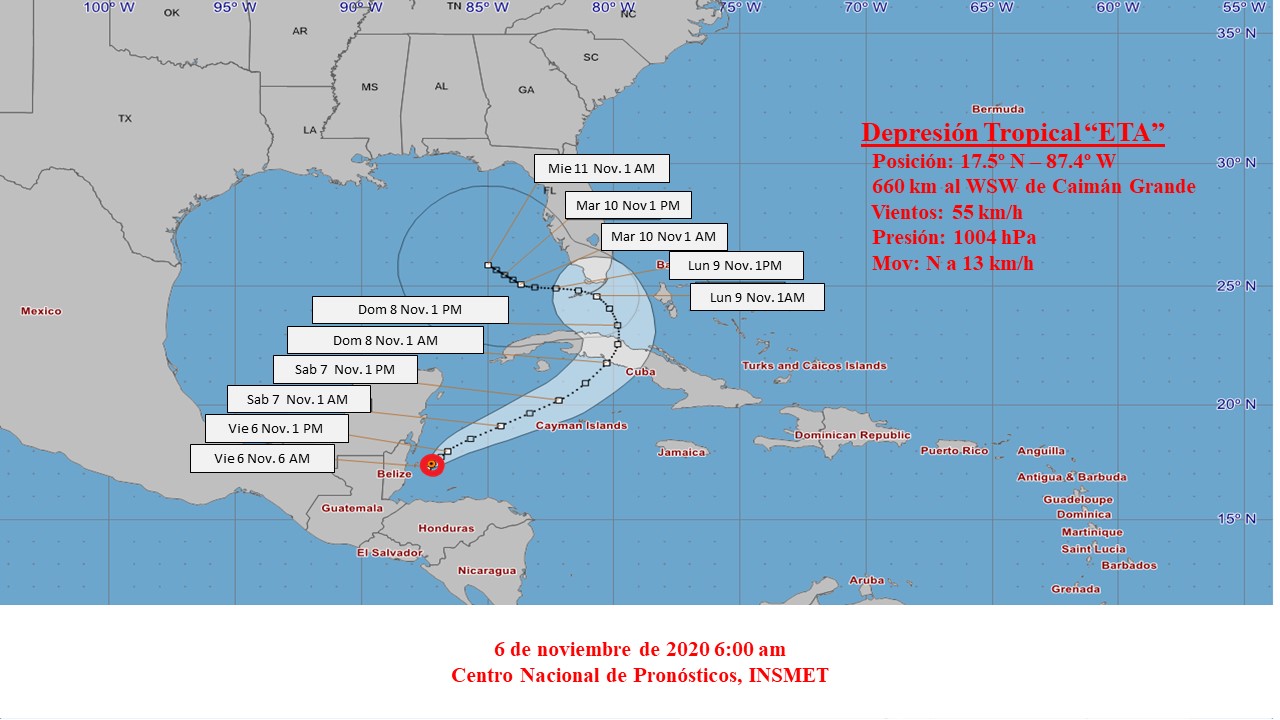 During yesterday's night the circulation center of the tropical depression Eta went out to sea through the Gulf of Honduras. In the last hours, satellite images show an increase in its cloud pattern, which remains very widespread, from the Pacific Ocean to most of the western Caribbean Sea, the Institute of Meteorology published.
The areas of heavy rainfall have increased in the vicinity of the center of its circulation, which is still very poorly defined; as well as east of it, becoming less dispersed. This indicates that Eta is in the process of reorganization, since it moves over warm waters in a favorable environment, which will allow it to gain in organization and intensity, although limited by strong winds in the upper levels of the troposphere.
It has maximum sustained winds of 55 kilometers per hour, with higher gusts and its central pressure has dropped slightly to 1004 hectoPascal. It is currently moving near north at a rate of 13 kilometers per hour.
At six in the morning, its central region was estimated at 17.5 degrees North latitude and 87.4 degrees West longitude, a position that places it 660 kilometers to the west-west of Cayman Grande and 680 kilometers to the southwest of Punta del Este, Isla de la Juventud.
In the next 12 to 24 hours, Eta will incline its course towards the northeast and in the morning hours it can turn into a tropical storm again. With this movement, Eta will approach the weekend to the south of the west and center of the country, increasing the rains in much of the archipelago, which can be strong and intense, even in areas far from the center. This extension of the rainy areas makes it the most important element, since it can affect, regardless of its future evolution and trajectory, practically the entire country, aggravated by a possible decrease in its speed of movement when it is closer to Cuba.
From Saturday night tropical storm force winds could occur in the western and central regions. These winds can produce storm surges and coastal flooding on both coasts. The areas affected by these elements and their magnitude will be related to the future development and movement of Eta, which still has some uncertainty. The next tropical cyclone advisory on this organism will be issued at noon today.