The Magic of Digna's Living-room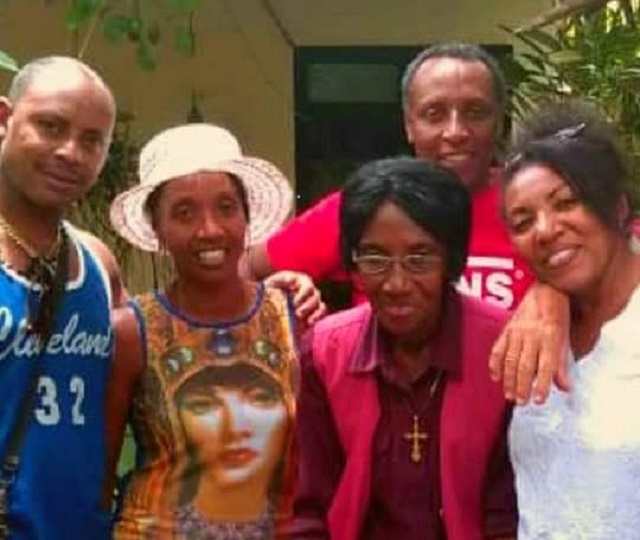 I find her wiping a damp cloth over that portrait that presides over the living-room, in a privileged place where the glances of all those who visit her every day converge. There she appears with her smile, the fullest that I know her together with Commander Fidel Castro.

She looks at it captivated and remembers that day in 1981 when she had the most beautiful experience of her life, having hugged Fidel.

I slowly approach her, hug her and am surprised by the thinness of her body … How can I imagine that behind the apparent fragility of this woman and her many years lived so many beautiful experiences, so many hardships, so many sadness are kept?

Digna Escalona was born black, farmer and poor 78 years ago. It seems that all the sorrows in the world had touched her in her childhood and youth. In spite of everything, an extraordinary force is housed in hers slight body, a force that feeds on her eternal and loud laugh, on the music that fills her house and never leaves it, on those enormous desires to live, to enjoy her four children who she is proud of and who are all university professionals.

Then her inexplicably young eyes light up. Those who know her and see her go out into the street, always elegant, with her very peculiar way of dressing, with her arm raised, giving greetings, perhaps not even imagine that she came down from the Mayarí hills with two children by the hand and one in the incipient belly, to look for them a better future and the opportunity to change their own luck in that dawn of hope in the 60s.

"Vilma helped me, I went to see her and the boys became to study. I owe everything to her", she says proudly. Digna worked the land and learned to master the technique of those small tractors, the vindication of oxen, which the popular wit baptized as picolinos, becoming one of the first women to demonstrate the capacity and dedication that characterizes Cuban women.

Retired from the gastronomy sector, La Mariposa cafeteria owes its brightest colors to Digna, that of the harvest season, when her happiness and helpfulness made it the busiest establishment in the batey.

In each call for revolutionary reaffirmation, she is seen happy and proud with all the medals won as a merit of her life and work, adorning her chest. And when they ask her what has been the greatest satisfaction in her life, she says excitedly: "One is my family, the other having shared with the commander-in-chief, talking with him and even receiving advice, he gave me a kiss and I did not wash for a long time the face … ha ha, I have the video.

Many experiences accompany Digna in her long passage through existence but the conversation with the boss, as she names him, is her greatest gift of life. While encouraging, and well beyond hers departure, the portrait of Fidel embracing Digna will continue to preside over the room as an exclusive testimony not only to her, but also to a privileged family not only for the love of this incredible woman but also because she is responsible for her little living-room be illuminated by a special light that comes from the colossal presence of a giant and the smile of this woman.