Second Declaration of Havana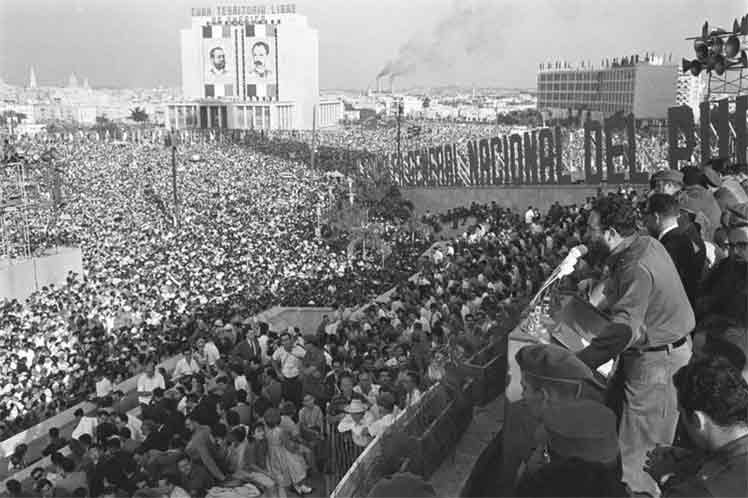 Havana, Cuba: 59 years ago today, more than a million Cubans in the General Assembly of the people approved the Second Declaration of Havana, a document that manifested the Latin Americanism and anti-imperialist vocation of the nascent Revolution, Prensa Latina publishes.
The text, read by the leader Fidel Castro, also denounced the interference of the US government in the internal affairs of Cuba and highlighted the danger of northern domination over the rest of the nations of the continent.
During the citizen rally in the Revolution Square, the Statesman explained the pressure exerted by Washington to expel the Caribbean nation from the Organization of American States (OAS) during the meeting of the organization in Punta del Este, Uruguay, the January 31 of that same year.
According to historical research, in this context and with the consent of the United States, all Latin American countries, except Mexico, broke diplomatic relations with revolutionary Cuba.
The Second Declaration of Havana examined the historical roots of the peoples of the continent and reflected the island's decision to resist and build Socialism, despite difficulties or pressures.
The day before, on February 3, 1962, the president of the United States, John F. Kennedy, signed executive order 3447 that formalized the blockade against the island, a measure that sought to suffocate the nascent Revolution and is still in force, despite to international rejection.
In the opinion of specialists, with his speech in 1962, Fidel Castro reaffirmed the national dignity, self-determination and sovereignty of the largest of the Antilles.
In this sense, the Argentine political scientist Atilio Borón stressed that the document has "enormous historical value and also rigorous news that the new generations of anti-imperialist and anti-capitalist fighters must read, study and, most importantly, put it into practice".
During the II Summit of the Community of Latin American and Caribbean States (Celac) in 2014, the island's foreign minister, Bruno Rodríguez, affirmed that Cuba's position with respect to the OAS has remained unchanged since the Second Declaration of 1962.
"We will not return to it, it has a negative historical burden as an instrument of domination of the United States that cannot be resolved through reform," he said.
The text from 59 years ago concludes with one of the best-known phrases in the history of the Cuban Revolution that the Argentine guerrilla Ernesto Che Guevara would later read before the United Nations:
"Because this great humanity has said Enough and has started walking. And their march of giants will no longer stop until they conquer true independence, for which they have already died more than once uselessly. Now, in any case, those who die will die like those of Cuba, those of Playa Girón, they will die for their only, true, inalienable independence! ".