Moralitos: Gómez and Maceo together in Combat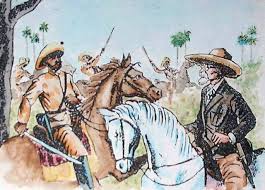 The only time that General in Chief Máximo Gómez and the Lieutenant General of the Liberation Army, Antonio Maceo Grajales, fought together in the former province of Havana, was on a day like today in 1896.
General Gómez when passing through the vicinity of Moralitos and crossing the highway from San José de las Lajas found the road occupied by the Spanish battalions. A heavy shooting began immediately. General Maceo arrives at combat with his staff and his escort. The rest of his squad did not fully participate in the combat as they had been behind from Jaruco.
According to Hispanic historiography, there was a victory for the peninsular arms there. The Cuban hosts must have seen them that day within a terrible ring of fire of numerous columns that occupied strategic points in neighboring towns and others that followed their trail, all the roads were full of soldiers.
The fighters raised the critical moment. Thus, a successful result cannot be attributed to the Spanish command. The Cuban researcher and writer Omar Felipe Mauri Sierra, however, recalled the bloody nature of the clash, which according to various sources caused more than a hundred casualties among the dead and wounded in the Mambi forces.
The author of the book Juan Delgado: a lightning on horseback and numerous historical articles, meant that after the bloody combat in Moralitos on February 19, 1896, Major General Antonio Maceo Grajales fought a score of important confrontations in about 30 days in the former province of Havana, before entering again in Pinar del Río.
Omar Felipe Mauri Sierra argued that in the course of time, numerous legends about this important action transcended, now in the jurisdiction of Mayabeque, largely alive in the oral tradition of the region.
When mentioning the famous meeting of Gómez and Maceo at the Soto farm, near the town of El Perú, almost halfway between Jaruco and San José de las Lajas, the renowned Cuban poet and essayist affirmed that we are urged to point out sites of capital events of the history of Cuba, so that the communities feel deserving of the glory lived.