Today in Mayabeque 43 Positive Samples and a Deceased by Covid-19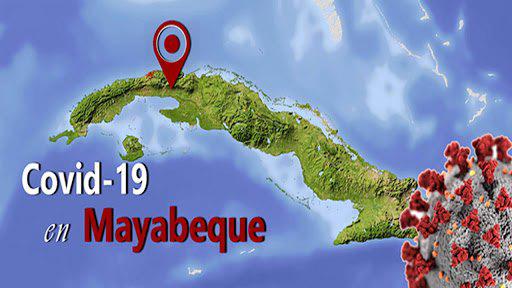 Mayabeque, Cuba: Mayabeque registers 43 samples positive for Covid-19, according to the official website of the Ministry of Public Health (MINSAP).
Among those infected are 4 without a specified source of infection, 1 from Güines 1 and 3 from Nueva Paz, in addition to 39 who are contacts of confirmed cases.
Of the 43 positive samples, the municipalities with the highest incidence are San José de las Lajas with 19 and Madruga with 11.
The municipalities of Quivicán and Güines count 4 each while Batabanó and Melena del Sur register two cases. As for Nueva Paz, yesterday he diagnosed 3 people with the disease.
As reported by the national director of Epidemiology of the Ministry of Public Health (Minsap), Dr. Francisco Durán García, in his usual press conference, from the province of Mayabeque two people are admitted, in serious condition:
• 86-year-old Cuban citizen from Nueva Paz. Personal Pathological Antecedents of Senile dementia. He is in intensive care, afebrile, on spontaneous ventilation with supplemental oxygen. Hemodynamically stable. Good diuretic rhythm. Blood gas with acceptable parameters. Chest X-ray presents very discrete inflammatory lesions in the right cardiophrenic angle. He is reported as seriously ill.
• 6-month-old Cuban citizen from Batabanó. Personal Pathological Antecedents: They do not refer. He is in intensive care, afebrile, spontaneously ventilating. Hemodynamically stable. Blood gas within acceptable parameters. Chest X-ray. Diffuse inflammatory lesions in the left hemithorax. Reported as seriously ill.
Meanwhile, it is reported as critic an 81-year-old Mayabeque woman, living in Melena del Sur. Personal pathological antecedent of Arterial Hypertension. She is in the Intensive Care unit, afebrile, sedated, on mechanical ventilation, with severe respiratory distress. Hemodynamically unstable supported with amines. Better diuretic rhythm. Torax X ray. Inflammatory lesions of the lower 2/3 of both hemithorax. Reported of unstable criticism.
Regarding the deceased, the specialist mentioned a 76-year-old patient from San José de las Lajas, contact of positive cases Personal pathological history: Arterial Hypertension. Hospital stay: 12 days. He presented clinical, gasometric and radiological worsening, it was necessary to intubate and ventilate in a controlled mode. He did cardiac arrest in asystole; cardiopulmonary resuscitation maneuvers were performed that were not effective.