Cuba Reports 873 New Cases with Covid-19 and Two Deaths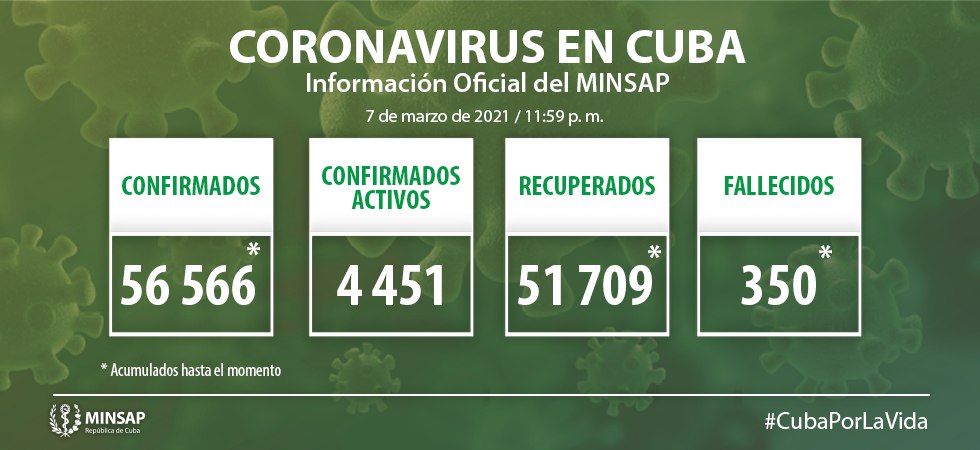 Havana, Cuba: The national director of Epidemiology of Cuba, Dr. Francisco Durán, reported 873 new cases with Covid-19 on Monday, two deaths in the last 24 hours and 930 medical discharges, Radio Habana Cuba reports.
In his usual press conference, Durán explained that 4,451 people with Covid-19 are admitted to the country's hospitals and the total number of deaths amounted to 350, while the number of infected in Cuba since March of last year is 56 thousand 566.
For Covid-19, they studied 20 578 samples in the 22 molecular biology laboratories in Cuba. The country accumulates 2,540,022 samples performed and 56,566 positive (2.23%).
Durán García began his update of the complex epidemiological situation on March 8, highlighting the work of women in all areas of life in the country, especially in Health. Date on which International Women's Day is commemorated.
Of the confirmed cases, 851 correspond to autochthonous cases, 23 (2.6%) are linked to international travelers -22 imported cases and 1 associated contact-, accumulating 10,703 (21.56%), 820 (93.9%) they are contacts of confirmed cases, which now amount to 52,241 (92.3%) and 31 (3.55%) with no specified source of infection.
Of those diagnosed, 421 (48.2%) are female, for a total of 27 429 (48.5%) and 452 (51.8%) male, accumulating 29 137 (51.5%)
69 confirmed patients are cared for in intensive care rooms, of which 29 are reported in critical condition and 40 in serious condition.
Residence by provinces of the 873 new diagnosed cases:
Pinar del Rio: 64
Artemisa: 40
Havana: 362
Mayabeque: 67
Matanzas: 12
Cienfuegos: 3
Villa Clara: 32
Sancti Spíritus: 27
Ciego de Ávila: 9
Camaguey: 41
Las Tunas: 5
Granma: 94
Holguin: 39
Santiago de Cuba: 53
Guantanamo: 17
Isla de la Juventud Special Municipality: 8