Intellectual Colloquium "My words about words" in Mayabeque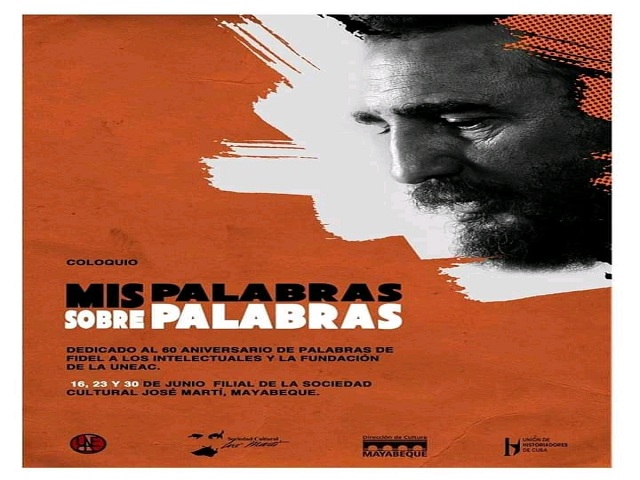 Mayabeque, Cuba: The Branch of the José Martí Cultural Society in this province is the headquarters of the Colloquium: "My words about words". Artists, intellectuals, historians debate the significance of the speech: "Words to the intellectuals", delivered by Fidel Castro Ruz at the National Library in June 1961.
The president of the Union of Writers and Artists of Cuba in the territory, Juan Carlos García Guridi, referred to the purposes of this event: "a colloquium dedicated to the 60th anniversary of our organization: National Union of Writers and Artists of Cuba. I believe that there is no better possible motivation for any of the activities that are carried out, despite the limitations, for the anniversary of the UNEAC in this territory".
"Among the founders of this organization was Félix Pita Rodríguez, from Bejucal, one of the most important writers of the 20th century. That in some way distinguishes us".
Roberto Fernández Retamar, Alfredo Guevara, Graziella Pogolotti, Lezama Lima, Virgilio Piñera, Pablo Armando Fernández, Lisandro Otero, among other personalities, accompanied the young Fidel Castro, in the exchanges held on June 16, 23 and 30, 1961, in the National Library. The organizers of the Colloquium: "My words about words" chose similar dates to hold conferences and debates.
For the provincial director of culture, Carlos René Escobar Díaz: "given the problems we face today, it is good to take refuge and delve into these texts by Fidel, it surprises us how a 34-year-old young man could have such a vision. Practically the Cuban cultural policy is born here in Palabras a los Intellectuales ".
And that historical event that has been distorted, especially the phrase "within the Revolution, everything; against the Revolution, nothing", which has been wielded as a lack of democracy, of the creative spirit of the artists, but people take it out of context".
Later Escobar Díaz added: "but life has shown how many of those artists, who in the first moments did not understand, did not support, did not interpret the line of the Revolution well, they later realized what it meant for the Cuban culture".
In the speech delivered by the President of the Councils of State and Ministers of the Republic of Cuba, Miguel Díaz-Canel Bermúdez at the closing of the 9th Congress of UNEAC, on June 30, 2019, he stated: "Our duty is to read it aware that, being a document for all time, due to the principles it establishes for cultural policy, it also requires a contextualized interpretation".