Cuba will defend its sovereignty against destabilizing attempts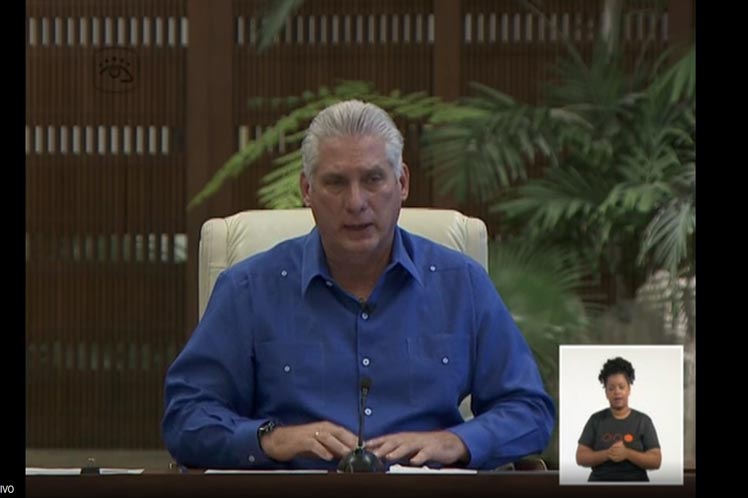 Havana, Cuba: President Miguel Díaz-Canel reaffirmed Cuba's will to defend its right to sovereignty, self-determination and independence in the face of destabilizing attempts promoted today from the United States, Prensa Latina publishes.
In a press conference offered the day before, together with members of his cabinet, the president denounced the increase in a campaign on social networks that seeks to create opinion matrices in order to discredit the efforts made by the Revolution to guarantee health and safety of the people.
Regarding this aspect, he referred to the protests carried out last Sunday by groups of people in some cities of the country with which, he said, it is intended to justify the need for humanitarian intervention.
The head of state affirmed that Cuba needs solidarity, which it has never denied, and the immediate suspension of the 243 measures to strengthen the blockade implemented by former US president Donald Trump, which keep the current Democratic administration of Joe Biden intact.
Likewise, he urged the US president to listen to the worldwide clamor and put an end to the economic, commercial and financial siege that that power has imposed on the island for six decades.
In the contact, Foreign Minister Bruno Rodríguez called on that northern power to unmask the participation of political actors and entities in its territory with the campaign to promote a humanitarian intervention in the Antillean country.
Rodríguez called on Washington to confirm or deny the links of a company established in Florida with the SOS Cuba campaign, the manager of an alleged aid in the context of Covid-19, which operates with state funds.
According to the Minister of Economy and Planning, Alejandro Gil, last year Cuba invested 102 million dollars, only in reagents, medical equipment, means of protection, expendable material and medicines.
So far in 2021, the nation has spent 82 million of that currency for such purposes.
He pointed out that in 2020 the country received 2,413 million dollars less than in 2019 due to limitations on exports, remittances and other sources of income, mainly due to the coercive measures of Washington against the largest of the Antilles.