School Year Is Temporarily Suspended in Two Educational Centers in Güines
Mayabeque, Cuba: The Municipal Defense Council in Güines agreed to temporarily suspend the school year at the Sueños de Camilo nursery school and at the Clodomira Acosta elementary school, as a preventive measure to avoid contagion with COVID 19.
As a result of verifying a contact with relatives of a confirmed case in San José de las Lajas, executives in both institutions proceeded to carry out environmental sanitation, cleaning and organization actions, in conjunction with the public health sector.
The Head of the Department of School Health in the Department of Hygiene and Epidemiology, Liyen Núñez Berrier, argued: "the quick action of Public Health was to adopt the first measures, to remove all classmates, including children from the Children's Day Care Center and the fumigation of the facility, as well as in the Clodomira Acosta primary school ".
At another time Núñez Berrier added that Public Health has carried out daily inquiries in all schools.
The administrator of the Children's Day Care "Dreams of Camilo", Naireylis Ramos Izquierdo, assured: "all measures have been taken and they have been strictly complied with".
"We have 160 children, therefore we act immediately that we find out about the event, the child is a contact of a contact of a sick grandmother who is currently admitted to Havana City, for having been positive in the province of Mayabeque. Today our workers go into isolation for the weekend awaiting the results of the test".
The head of the cycle at the Clodomira Acosta elementary school, Yanelquis Domínguez Tehran, added: "We are waiting for the result of the student's PCR, which if it is negative, on Monday, after 72 hours, we will do a new sanitation and we will begin the teaching process on Tuesday to conclude the school year ".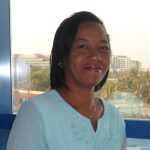 Periodista en Radio Mayabeque