Several Latin American Leaders on the Second Day of the Debate at the UN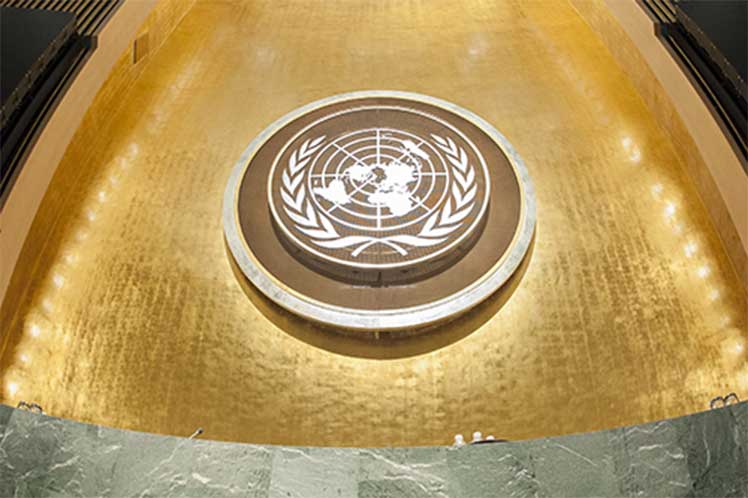 United Nations: The second day of the high-level debate of the General Assembly of the United Nations (UN) will feature today the interventions of several leaders of Latin American countries, according to the preliminary list released by the organizers.
According to this document, the leaders of Honduras, Ecuador, Bolivia, Nicaragua, Paraguay, the Dominican Republic, Venezuela and Panama will make their speeches virtually in the plenary, in the face of travel restrictions due to the Covid-19 pandemic, Prensa Latina publishes.
Heads of State from various African countries, such as Ghana, Mozambique, Algeria, Kenya, Zambia, Chad and Liberia, should also speak at the forum.
Yesterday, the opening day of the debate, was marked by strong geopolitical tensions between world powers such as the United States and China.
In fact, the second video speech presented in plenary was US' President Donald Trump, who took the opportunity to attack China and the World Health Organization (WHO) for the Covid-19 pandemic.
The head of the White House again referred to the SARS-CoV-2 coronavirus as the 'China virus', a term seen as an inciter of xenophobia.
He also pointed out that the nation that unleashed the 'plague' in the world should be held responsible: China, according to the US president, who has been widely criticized for trying to politicize a health emergency, which affects the entire planet.
In the same way, he reiterated his intention to always put 'America first', in relation to the efforts to end the pandemic.
For his part, Chinese President Xi Jinping urged rejecting any attempt to politicize or stigmatize the issue of the pandemic.
He also pointed to the need to increase solidarity and showed his support for the leadership of the WHO, while calling on nations with larger economies to drive the global recovery and take into account the needs of developing countries.
While he did not explicitly mention the United States, Xi's comment that no country should be allowed to do what it wants and be the bully or the boss of the world was understood as a reference to the northern nation.
We will never seek hegemony, expansion or the sphere of influence. We have no intention of waging the cold or hot war with any country, the Chinese dignitary remarked in his speech, in which he called for addressing the differences between nations through dialogue and negotiation.
Another of the most frequently heard requests in plenary was for greater global solidarity in times of a pandemic, as well as to ensure that a future vaccine against Covid-19 is available to all.
Several world leaders, such as those of South Africa, Russia, Iran, Argentina and Costa Rica, raised their voices against the unilateral coercive measures that prevent a better response to the pandemic and hinder the development of peoples.
For the first time in its history, the high-level debate of the UN General Assembly in its 75th session will be held mostly virtually, due to the restrictions in the face of the Covid-19 pandemic. (LHS)