Several Detainees in Protests for Measures against Covid-19 in Spain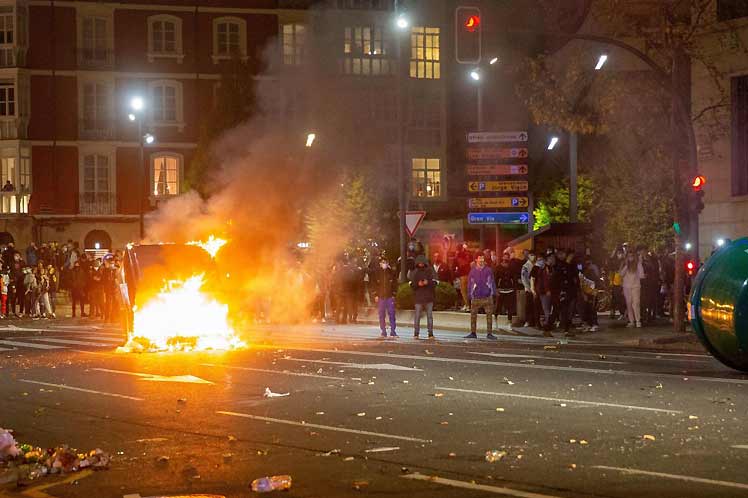 Madrid: At least 46 people were arrested by police forces during violent protests in various regions of Spain against restrictions imposed to curb the Covid-19 pandemic, Prensa Latina reports.

This European country lived the day before a new night of disorders carried out by individuals who reject the existence of the SARS-CoV-2 coronavirus, which causes the Covid-19 disease.

Summoned on social networks, the demonstrations turned into severe riots and clashes against the security forces in Madrid, Logroño, Malaga, Santander and the three capitals of the Basque Country.

In Madrid, the National Police fired anti-riot ammunition to disperse crowds of people who set fire to garbage containers on Gran Vía, one of the main commercial arteries of the Spanish capital.

The one in this city was the most virulent protest and ended with 12 injured, three of them law enforcement officers, and 32 arrests, according to the balance published this Sunday by several media.

Enraged protesters threw objects at the agents, stones against the windows of some stores and destroyed furniture on the well-known Madrid avenue.

The altercations, which spread to other parts of the Iberian nation, resulted at the moment with 46 detainees -32 in Madrid, six in Logroño (La Rioja), four in Bilbao (Basque Country) and another four in Santander (Cantabria)-, in addition to 11 police officers injured.

The President of the Spanish Government, Pedro Sánchez, condemned the violence in the streets, where there was even looting of shops, through a message written on his official account of the social network Twitter.

"The violent and irrational behavior of minority groups is intolerable. It's not the way", the president tweeted.

"Only from responsibility, unity and sacrifice will we be able to defeat the pandemic that is devastating all countries", the Social Democratic politician stressed, who thanked the work of the security forces and bodies in the face of the disturbances.

Like other European countries, Spain resorted to increasingly drastic measures to reduce the exponential growth of infections by Covid-19.

The executive imposed a state of alarm until May 9, 2021 to try to contain the spread of the pandemic.

This constitutional instrument grants the authorities of the 17 autonomous communities the power to limit freedom of movement through perimeter confinements and curfews.