Congress Removes Peru's President and Sparks Controversy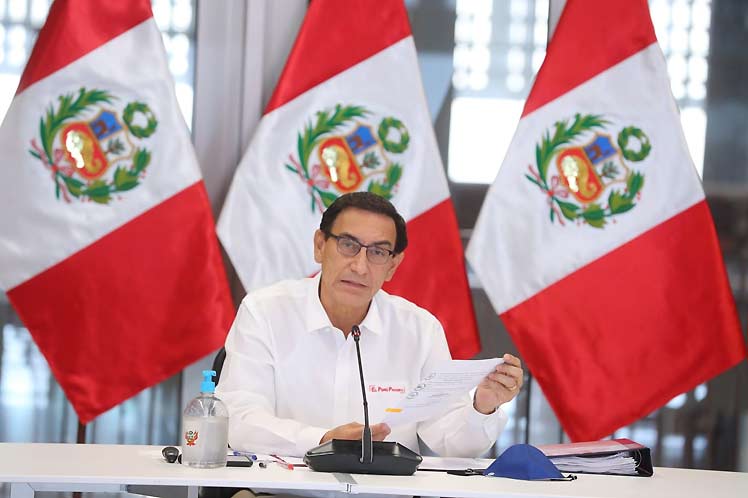 Lima: The Congress of the Republic of Peru vacated (dismissed) President Martín Vizcarra for "permanent moral incapacity," when he had served less than two years and eight months in office, and immediately unleashed a controversy, Prensa Latina publishes.

The decision was taken by a large majority of 105 votes in favor, 19 against and four abstentions, out of a total of 130 parliamentarians, and when Vizcarra had less than eight months to go before he delivered the post.

The former president will be replaced today by the next in line of constitutional succession, the head of Congress, Manuel Merino, a veteran conservative politician from the old Popular Action party (AP).

The defenestration was based on complaints from businessmen who say they paid hundreds of thousands of dollars in exchange for public works contracts in the southern region of Moquegua, when Vizcarra was governor of that territory.

The vacancy was the outcome of a long session in which Vizcarra was harshly questioned and accused of not telling the truth or hiding it and not deserving the position but being dismissed for the controversial and discretionary 'permanent moral incapacity'.

The defendant, in his defense, insisted that he could not be vacated because the accusations, although serious, have not been proven and also said that more than half of the congressmen who tried him were investigated and even in one case sentenced to prison, without being kicked out of Parliament.

The vacancy caused surprise in several sectors, since only its promoters believed that Congress could contradict the widely majority opinion of the population or that banks that had a firm position against the vacancy, for political convenience, would change their position in a matter of days.

Reflecting popular rejection of Vizcarra's removal, which the centrist daily La República called a "coup," a group of protesters from the progressive New Peru Movement marched through the city center against what they called the corrupt Congress.

After the presidential dismissal, Merino assured that the general elections called by Vizcarra for April 11, 2021 remain unchanged, given the growing suspicion that the coalition of conservative minorities will seek to postpone them to buy time in order to solve their contradictions.

Merino will be the third ruler with a shortened mandate within a constitutional five-year term of government, as he will hold the presidency for just over eight months and before Vizcarra, Pedro Pablo Kuczynski, was forced to resign due to a corruption scandal before serving two years in the government palace.