Biden to Be Sworn in as 46th President of the United States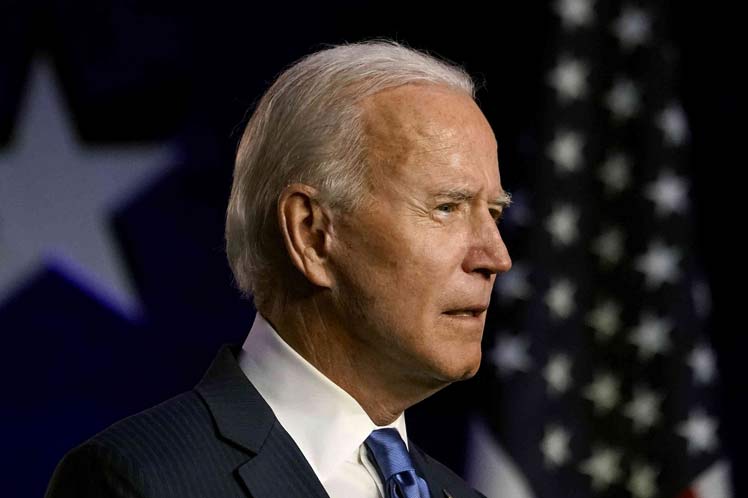 Washington: The president-elect of the United States, Joe Biden, will take office today as the forty-sixth president of the United States, amid an unprecedented security device in the northern nation, Prensa Latina publishes.
Organizers of the event hope that tens of millions of television viewers in the United States and around the world will enjoy the show, which will begin around 11:00 local time, while on the steps of the Capitol will be around a thousand personalities.
Among the invited personalities are a considerable part of the members of Congress, as well as former presidents of the northern nation with their respective wives.
The outgoing ruler, Donald Trump, will not attend the event, making him the first president of the country not to witness the inauguration of his successor since Andrew Johnson in 1869, although Vice President Mike Pence will be among the participants.
Another important absence is that of Jimmy Carter, the country's oldest living former president, who at 96, this will be the first inauguration ceremony to be missed since he took office in 1977.
Those in attendance will see Biden and Kamala Harris swearing in shortly after noon, followed by a show featuring popular artist Lady Gaga singing the national anthem, as well as the likes of Jennifer Lopez and Garth Brooks.
Biden, Harris and their respective spouses, Jill Biden and Doug Emhoff, will place a wreath at the Tomb of the Unknown Soldier in Arlington National Cemetery, Virginia, an activity that also includes the participation of Barack Obama, George W. Bush and Bill Clinton with their spouses.
Following the cemetery visit, Biden, Harris, and their partners will address the White House for the first time as President, First Lady, Vice President, and Second Gentleman, respectively.
The entire act will be marked by fears of the spread of the Covid-19 pandemic and of a possible terrorist action after the assault on the Capitol on January 6, factors that will make the inauguration of the Democrat something very different from the ceremonies of his predecessors.
Due to the fact that there were numerous signs that foreshadowed terrorist actions during the ceremony and in previous days, the act is preceded by the implantation of an unprecedented security device in the entire history of the northern nation, only comparable to the one conceived when Abraham Lincoln (1861-1865) assumed the presidency, in the middle of the Civil War.
The inaugural activity of the new administration will take place after a hectic and controversial electoral process, the results of which were questioned until the end by Trump, even after the certification of Biden's victory by Congress.