Victims of Massacres and Repression in Bolivia Offer Testimonies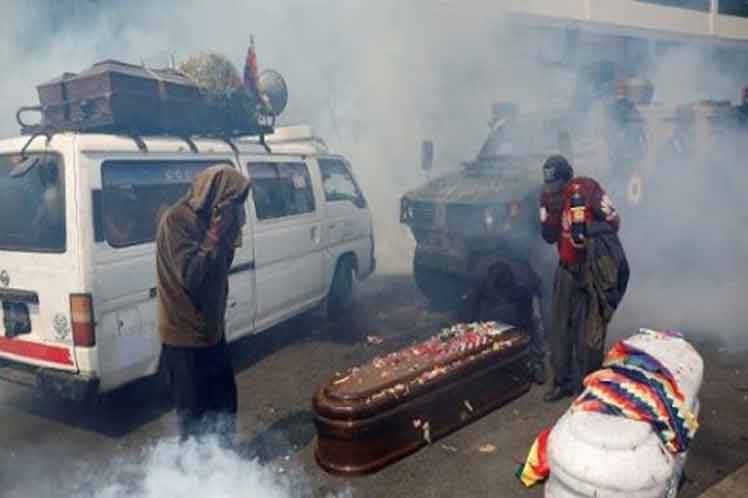 La Paz: Testimonies of victims of the massacres of Sacaba (Cochabamba) and Senkata (La Paz), of the political persecution during the de facto government in Bolivia today monopolize headlines amid the judicial process against former coup authorities, Prensa Latina publishes.
The hashtag #SomosDemocracia constitutes an alliance of Bolivian state media to commemorate those unfortunate events that mourned several families and exposes to public opinion details of the repression against those who rejected the coup against then-President Evo Morales in November 2019.
Gloria Quisbert, president of the Senkata victims, told the state channel Bolivia TV how a military contingent from a helicopter shot people and the medical negligence of some doctors left the wounded to die because they considered them to be the Movement toward Socialism (MAS).
For his part, Gonzalo Mamani, a victim of the same incident, narrated how police officers burned the Whipala flags, threw tear gas at women and children, and acted violently because they considered people related to that movement.
Likewise, María Cristina Quispe Mamani, told the same media how her husband lost his life because of the shooting by soldiers when he was only going to collect his salary.
The communication strategy comes in the middle of the judicial process promoted by the Prosecutor's Office against the de facto ex-president Jeanina Áñez, and former members of her Cabinet, currently in preventive prison, a process described by the Bolivian right as a 'witch hunt' despite those strong testimonies.
On the other hand, the Latin American Human Rights Forum (Foladh) recalled the day before in a statement that Áñez committed serious human rights violations, mainly against MAS leaders and militants and vulnerable groups, as well as crimes against humanity and criminalized the protests social.
The Foladh denounced that more than 150 leaders and members of that movement were subjected to trials on charges of alleged sedition and terrorism, including accusations against the Aymara leader, all without plausible grounds, as part of a campaign of persecution and political exclusion from the main opposing force.
He rejected the interventionist attitude of the OAS, which, once again, defended Áñez and her Cabinet and described that organization as a promoter of scenarios of destabilization and open partiality.
The local Foreign Ministry denounced the interference of that organization and assured that Luis Almagro, its secretary general, does not have the moral or political authority to refer to Bolivia and favors private and political interests, while forgetting the violations, deaths and persecutions committed by the regime of fact.
"His actions cost human lives and he must be held accountable for his biased behavior and far from objectivity," the text denounced, referring to Almagro's statements about the arrest of Áñez and several members of her Cabinet.