Playa Girón, Glorious Feat of Latin America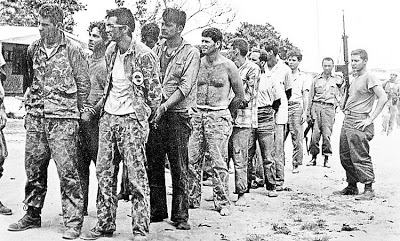 The Bay of Pigs invasion was a military operation in which Cuban exiled troops, supported by the United States government, invaded Cuba in April 1961, to try to create a beachhead and form a provisional government.
On April 19, 1961, the United States suffered the first military defeat at the hands of the Cuban militiamen, who together with the people in arms defended the Revolution.
In less than the 72 hours that the United States needed to establish a beachhead and form a provisional counterrevolutionary government, the Cuban people delivered their first defeat in Latin America.
US President Dwight D. Eisenhower approved the invasion plan and ordered the recruitment of mercenaries of Cuban origin, who carried out the invasion. Each of them was offered to pay $ 225 a month, plus an additional $ 50 for the first child and $ 25 for the remainder.
On April 17, more than 1,500 armed men, war tanks, field artillery and 30 US aircraft invaded the Bay of Pigs, in the Zapata Swamp, in the center of the island of Cuba.
On April 15, 1961, an eight A-26 plane, with a Cuban flag on the fuselage, bombed the military airports of Ciudad Libertad, San Antonio de los Baños and the Antonio Maceo aerodrome in Santiago de Cuba.
This operation resulted in the destruction of less than half of the Cuban aviation. The failure of the first bombing led to the cancellation of the second, which would take place on April 17.
That same day, Brigade 2506 landed at Playa Girón and Playa Larga with a total of 1,200 members guarded by their ships. Despite Brigade 2506's advance in the area, it is unable to count on effective air support from the United States.
By Wednesday, April 19, the invading forces were left behind and surrounded by the Cuban armed forces, which led them to surrender.
The Cuban troops were made up of combatants from the Rebel Army and the National Revolutionary Police (PNR), but the bulk of them were volunteer militiamen with little or no combat experience, who, led by Fidel Castro, did not give the enemy a minute's truce.
Fidel Castro recalled in a speech delivered on April 19, 1991: "The history of the Playa Girón aggression is not only an important historical event and not only translated into a great victory for the Cuban Revolution and a great defeat for imperialism, but also, on the occasion of that invasion, the socialist character of the Cuban Revolution was proclaimed ".
That gesture of courage and revolutionary conscience was the beginning of a glorious epic in the history of Cuba and Latin America, which would end in the first great military defeat of North American imperialism on the continent.