The Fall in Combat of Antonio Maceo and Panchito Gómez Toro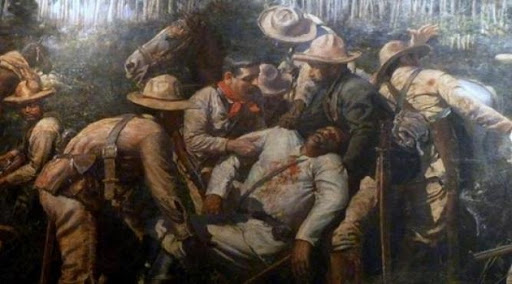 José Antonio de la Caridad Maceo y Grajales was born on June 14, 1845, in Santiago de Cuba.
His mother was Mariana Grajales, who instilled in Maceo an iron discipline, to the point of causing a temporary stutter in his childhood that he would overcome in adolescence. This discipline would be fundamental in the forging of his character and would be reflected in his actions as a military leader.
To his illustrious intelligence and personal virtues, he added an exceptional physical vigor, in a stature of more than six feet, which allowed him, together with his exceptional qualities as a combatant, to resist and survive 26 wounds, adding those from bullets and knives. His exceptional strength and courage earned him the nickname of the Bronze Titan.
After several years of exile In 1895, Maceo landed in the vicinity of Baracoa together with Flor Crombet and other lower-ranking officers and after rejecting a Spanish attempt to capture or kill him, he went into the mountains of that region.
After many vicissitudes, he managed to gather a small contingent of men, which quickly grew with the groups already up in arms in the Santiago de Cuba region.
It would be approximately three in the afternoon on December 7, 1896, when the Spanish forces collided with the outposts of the guard at the camp of Lieutenant General Antonio Maceo, in San Pedro, Punta Brava. After the surprise, Maceo gives the precise orders to contain the enemy that is coming upon them.
Enemy fire rages and Maceo is hit by a projectile that penetrates him through the right side of his face, near his chin, and exits, rupturing the carotid artery, through the left side of his neck.
The officers, with difficulty, weighing more than 200 pounds, put him on the horse and he falls back to the ground when another bullet hits the chest and kills the beast on its way out. Maceo is dead and 12 wounded men lie beside him. The lifeless body of Major General Antonio Maceo, second chief of the Liberation Army, is left alone in those bushes at the mercy of the enemy.
Upon learning about what had happened Panchito Gómez Toro, who remained in the camp because he was wounded, goes out, with one arm in a sling and practically unarmed, in search of the body of his boss.
In a supreme gesture of devotion and loyalty, he will die at his side. It is an easy target for Spanish weapons. Wounded, weakened by the blood he loses, he tries to commit suicide so they don't take him alive, but first he wants to write a note to his parents and siblings to explain his decision. He can't finish the message. One of Peral's guerrillas finished him off with a machete to the head.
Maceo was one of the most important independence leaders in Cuba during the 19th century. True to his ideals, he demanded the abolition of slavery and freedom for the island. Also known as the Bronze Titan, his body received 27 wounds, six of them from bullets, received in more than 600 battles.