Incomplete cabinet swears in before new Peruvian president Pedro Castillo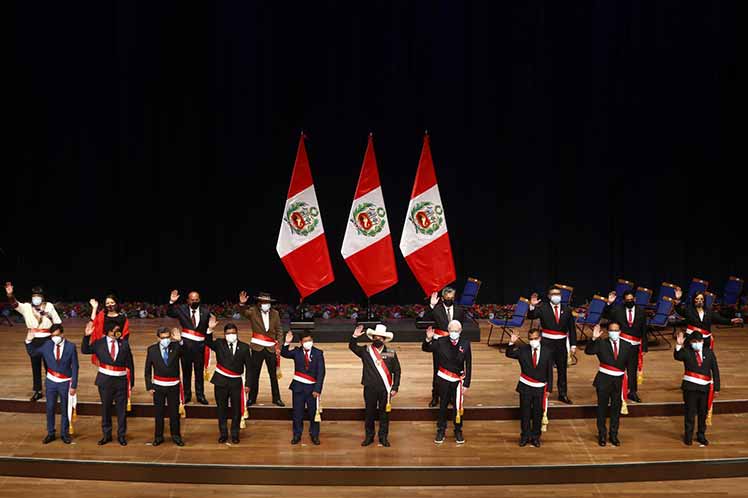 Lima: An incomplete ministerial cabinet was sworn in before the president of Peru, Pedro Castillo, during midnight and with about three hours of delay with respect to what was announced, Prensa Latina publishes.
The appointment of the heads of Economy and Finance, and Justice, who were to be assigned, according to press reports, to the economist Pedro Francke and the jurist Aníbal Torres, the main lawyer who faced the legal maneuvers used to hide the electoral victory from Castillo, was pending.
Both withdrew from the swearing-in shortly before the ceremony, held at the Lima Convention Center amid attacks, criticism and pressure, especially right-wing, against the appointment of the new Prime Minister Guido Bellido.
The challengers are questioning the chief of staff for an ongoing investigation for alleged apology of terrorism, for declaring that the rebels of the Shining Path group were wrong Peruvians, a comment that is considered a crime under the drastic national legislation.
The head of state took possession of 16 of the 18 ministers, among which the head of Foreign Relations, Héctor Béjar, a veteran social fighter, a guerrilla in his youth and a prominent academic and political express amnesty by the government of Juan Velasco Alvarado for more 50 years, stands out.
As Defense Minister, it was appointed the lawyer Walter Ayala; from the Interior, the up to now Anticorruption prosecutor Juan Carrasco, and from Education the pedagogue Juan Cadillo, considered one of the best teachers in the world.
The Health portfolio was entrusted to the prominent doctor and former left-wing congressman Hernando Cevallos, and the Agrarian Development portfolio to Víctor Mayta, a graduate in Political Science and former candidate for parliamentary with the environmentalist Frente Amplio.
That of Labor remained in the hands of Iber Maraví, social leader of the Central Andean region of Ayacucho; that of Production in those of Ivan Quispe, leader of the FA of the Puno region; and that of Foreign Trade and Tourism, in those of Roberto Sánchez, president of Together for Peru, an ally of the governmental Peru Libre.
The Ministry of Energy and Mines fell to Iván Merino; that of Transport and Communications in the technician Juan Silva; Housing will be occupied by the construction engineer Geyner Alvarado; and of Cultures, the head of the RUNA political group, Ciro Gálvez.
The Environment office was in charge of Rubén Ramírez, former candidate of Peru Libre; that of Development and Social Inclusion, by the Vice President of the Republic, Dina Boluarte, and that of Women and Vulnerable Populations, by Anahí Durand, leader of the Nuevo Peru party, an ally of Peru Libre, for which Castillo ran.